ADE 2018 The Prison -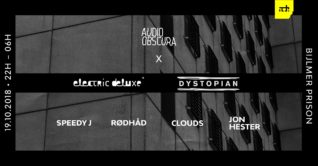 Techno in its finest form, Speedy J's Electric Deluxe label in collaboration with Berlin's Dystopian. Joining Speedy J on the bill are the Berlin native Rødhåd, US-born Jon Hester and the British Clouds.
While once a sinister location, for three nights Audio Obscura is transforming the Bijlmerbajes into an environment of joy, inclusivity and love for electronic music, an experience not to be missed.
▬▬ LINE UP ▬▬
Speedy J (Electric Deluxe)
RØDHÅD
Clouds
Jon Hester