BlackAsteroid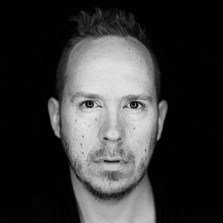 Hailing from Minneapolis, Bryan Black began his career as a sound designer for Prince, forging his production scope and capabilities at the renowned Paisley Park Studios. In 2001 Black relocated to London, teaming up with French musician Olivier Grasset to form Motor—a live fusion of techno and electro that saw the duo quickly signed to Novamute. The duo have since amassed a string of releases, including four albums 'Klunk', 'Unhuman', 'Metal Machine', and the most recent 'Man Made Machine'. They have also shared stages with the likes of Daft Punk and Kraftwerk, and supported Depeche Mode in their 2009 worldwide tour.
Realising the duo had strayed far from its techno origins, in early 2011 Black set to work on a new project. The result —Black Asteroid— caught the attention of Chris Liebing, who proceeded to put out his debut effort 'The Engine EP' shortly after, to critical acclaim. In Black's own words 'The Engine EP' "was all sweat and adrenaline", which was followed up by an even higher octane rework of "Engine 1" by Dave Clarke and Mr. Jones. BlackAsteroid is the next phase in the project: A primarily DJ-led excursion that digs even deeper into techno and a more discursive engagement with space and sonic textures.
Taking cues from artists such as Panasonic, Aphex Twin and Speedy J, as well as the more experimental, ambient and avant-garde nodes of techno, BlackAsteroid is a multi-referential project that will continue to evolve and redefine itself. 'Black Acid' is the forthcoming EP on Electric Deluxe, which will introduce another faucet to the BlackAsteroid sound. If you think you've heard BlackAsteroid, think again. This is only the beginning.