Collabs feat Speedy J and George Issakidis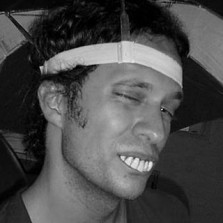 This continues the story of George Issakidis' and Speedy J's Collabs. Back in 1999, George contacted Speedy J for a remix of a Micronauts track: 'The Jag'. They became friends and Speedy J invited him to do some tracks together as part of his Collabs series on Novamute (Collabs 400 & 401).
After his Milestone Albums on Novamute, and the successful releases on Electric Deluxe 'Red Shift' and with Chris Liebing 'Magnit / Maggie' Jochem Paap aka Speedy J needs no introduction. His musical vision is genre blurring, creative freedom at the highest level of innovation and quality, his current project Open Collabs is a public collaboration of epic proportions that builds a community, which will result in a conceptual album this year. Meanwhile his work was featured in magazines like Groove, Beat, Raveline and Resident Advisor, reviewed all over the world, and his Podcasts for Tsugi, XLR8R and Samurai FM still circulate heavily on the web, as well as all his releases.
Artist like Richie Hawtin, Chris Liebing, Surgeon, Selway, Adam Beyer, Matt John, Len Faki, Agoria, Laurent Garnier, Redshape, Sandwell District, Miss Kittin rely on his tracks for their sets – His performances were celebrated by the crowd and promoters alike, at venues like Berghain and Melkweg, or while headlining last years DEMF festival in Detroit. George, previously part of the Micronauts (remixing Underworld, OMD, 16Bit, The Chemical Brothers) custom codes software for his audiovisual performances, seen at Sketch (London) VideA (Barcelona) Placat (Tokyo) and Icram (paris). While usually traveling the world as a modern bohemian, he resurfaces for remixes of Soft Pink Truth and Colder on his label Republic Of Desire, and collaborations with his friend Speedy J. They found that when working together, they'd bring out each others love for drugged-up-sci-fi-future-designer-retro-dub-sex-funk-electro-hop-acid-bass music, and that's really all they wanted to do, a fun, artistic statement in techno.
releases