EDLX Spotlight #07: Audio Injection -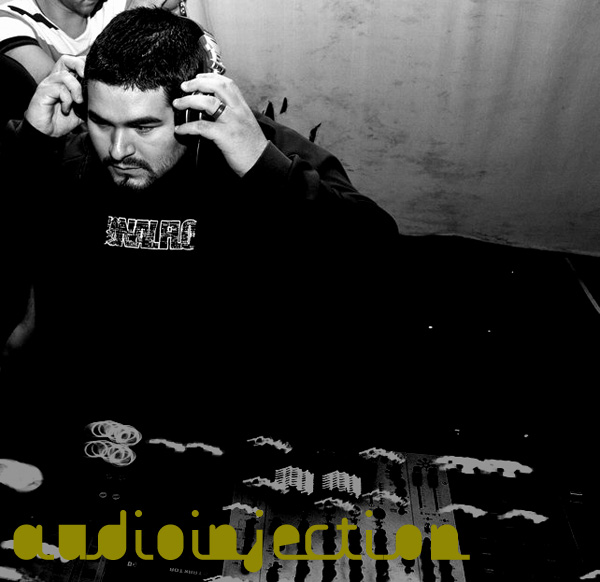 EDLX: How did you start producing and when?
AI: I started producing around 1999. It's a funny story actually, I started to learn how to sequence tracks using Playstations Music Generator, I was literally hooked on that game, making tracks like crazy (nothing really playable to be honest haha) but from then on I wanted to start getting into production and later bought myself a little sampler and a Yamaha Rm1x, then eventually a PC…
EDLX: Â What is your approach to putting the tracks together in the studio?
AI: Most of the time when I start a track, I'll just fiddle around with samples and vsts and put together sounds and work my way into a groove, from there on it's just freestyling. I'll add different elements and see if they work together until I find something that I'm happy with.
EDLX: Â Can you describe your sound?
AI: That's a hard question because I think my sound is always evolving, so let's just keep it simple and Techno
EDLX: Can you reference some of your influences?
AI: I'm influenced from new and old. Some of the older influences come from Jeff Mills, Surgeon, Plastikman, Damon Wild, Dan Bell, Dj Hyperactive, Speedy J, Steve Stoll, Regis, Green Velvet/Cajmere, Dj Funk, etc…to more recent like Dvs1, Ben Klock, Dettmann, Sandwell District, the CLR crew, Droid crew, obscure white label techno and many more. Too many to name.
EDLX: What do you listen to when you are not producing music?
AI: To be honest I listen to A LOT of techno, new and old, it's a big part of my life and I love it. But you can also catch me listening to House, Drum n Bass, Hardcore, Acid, Classic Rock, Punk, Hip Hop, IDM, and sometimes Jazz.
EDLX: What have been your gig highlights of the last 6 months?
AI: Definitely Berghain in Berlin. I've played there with Drumcell twice and both times were amazing for me. Also I recently played in Athens, Greece with Drumcell and that party was awesome. It reminded me of our warehouse parties here in LA. I don't have a crazy tour schedule so when I do play out I try to make them special and enjoy every moment.
AI: What is your electric deluxe top ten from the back catalogue?
Speedy J – Red Shift
Collabs – Maggie (Toy 1)
Machine (Speedy J Rez)
Empty Vessels (Gary Beck Remix)
Surma (Speedy J Dub Tool)
Surma (Original Mix)
Drastic (Planetary Assault Systems Remix)
Speedy J – Trails
Kegerator
Gary Beck – Egoist
EDLX: What is your next release?
AI: Currently I'm working on remixes as well as my new Truncate project, but also working on some more original stuff for Electric Deluxe, there is no set release date, but be on the look out
EDLX: Who surprises you the most when you play with them? Who is pulling out records that you don't know?
AI: Well last time I saw Ben Klock play he's played a lot of old stuff and some I didn't know, he always surprises me with his sets.
EDLX: At EDLX one part of releases is always the tools. Do you make tools for your own DJ sets are you playing lots of edits?
AI: Yes I usually do make my own tools and the occaisional edit of my own tracks, but a lot of times I'll just edit live on the fly with Traktor when playing at gigs.
EDLX: Anything else you want to mention or say?
AI: Be on the look out for upcoming releases & remixes from Audio Injection as well as my new project Truncate. Visit my website or social networks for more information.
Also keep in touch with Droid for upcoming events and tour schedules for all the Droid artists.