EDLX Spotlight #07: Jerry Abstract -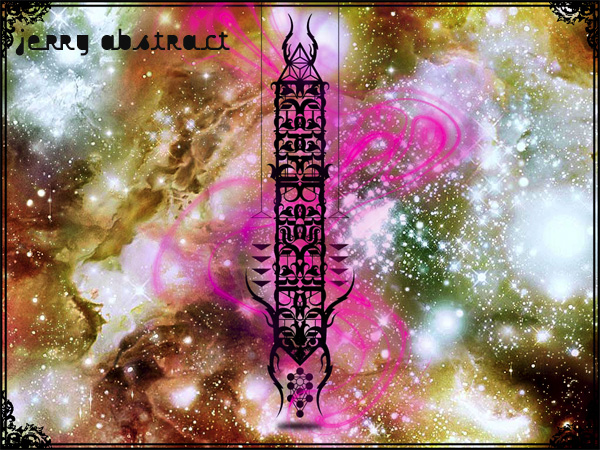 EDLX: So you are in Seattle whats that like at the moment what does it look like paint us a picture?
JA: In all actuality I have just returned from an extensive sabbatical over in Thailand so I've been out of the Seattle festivities for a year. However I will say that the Seattle electronic music scene has grown exponentially over the past decade. The are a lot of promoters pulling together solid events and regularly importing well known musicians. I've seen a lot develop, fail, and succeed in the Pacific Northwest over the past 11 years. Seattle has always been an integral part of America's music industry, however now it possesses a healthy bounty of electronic music activities, musicians and DJ's. Now-a-days you'll be able to catch two or three techno-like shows a week!
EDLX: What was it like programming the Decibel Festival and do you have any stories to tell.
JA: My role as Creative Director started in 2004 and I retired from that committee in late 2010. My main tasks were to develop and manage Decibel's visual identity. However, in the early years of Decibel I was conducting a multitude of tasks to help pull together the festival. and local community of talent. I'm sure that there are a lot of curators out there that can understand the pains and pleasures of large event management.
EDLX: You were around at a special time in Detroit's history, who were you rubbing shoulders with at the early secret inner city raves. What was it like?
JA: Ah yes, I always tell my friends that if we had a time machine I would take them all back to Detroit's early techno days; 1992 – 1997 were my fondest years. For me, there was a lot of freedom, mystery and anticipation in those days. All the events were small, dark, and loud sweat boxes. I definitely was spoiled with great music growing up in Detroit. There were so many good people that I befriended out there. Clark Warner, Derek Plaslaiko, Jason Huvaere, Kero and many others have always had a supportive role in my career.
EDLX: As well as music, and production and parties, design is an important part of your life what are your favourite artists and who should we be checking out?
JA: I started in the music industry as a graphic artist a few years before I started DJing and producing. Beginning with designing clubs flyers and record jackets like most digital artists of our generation. My favorite visual artists at that time were, The Designers Republic, Michael England, Demo, v23 and more. These days I enjoy the displays of Michael C. Place, Stefan Gandl, Alex Trochut, Mogollon, and WWFT are amongst the many inspiring designers.
EDLX: What can we expect from you in 2011? What have you been up to recently?
JA: I've recently finished up a grip of remixes for Detroit Underground, Pleasure Boat, SubSensory and Slant records. Those are due out for release or have recently been issued. I'm also in the midst of completing my debut LP. A friend and I completed a collaborative project called Avee Libretto that we've sent out in demo form. Since my return from Thailand I've been accepting more gigs and compiling more DJ mixes and podcasts. In the design world I have an illustrated piece coming out in Tristan Eaton's new book 'The 3D Art Book' and I am picking up a lot of new clients asking for identity development, which has always been my favorite kind of artwork to make.
EDLX: For people who don't know you can you give them an idea of your production style?
JA: I'm quite a diverse producer. For Shitkatapult I've released a lot of gritty dance floor techno. For other labels and remixes my productions vary from the ambient to minimal to electro and IDM. I focus a lot on individual sounds to maximize the aural experience and then build up from there. I do not use much sampling, unless I'm resampling my own loops for further manipulation. I keep my solo music as original as possible, allowing each song to "hold it's own".
EDLX: Do you have non-productive moments in the studio? Do you get writer's block?
JA: Hahahaa, yes indeed I do get those "today I have the dumb" moments. Like a lot of other techno producers I tend to get stuck 3 or 4 minutes into the track, rarely finishing it in one take. I suppose for me coming from a DJ's perspective I like to change things up while I'm in the mix, you know to add some narration and playfulness for the audience, however when creating a dance track you have to be mindful that other DJ's will be playing it out and that keeping your tune mix-friendly is always a good rule to create by.
EDLX: What was your first vinyl/EP bought?
JA: I started collecting vinyl when I was about 12 years old. It began with collecting punk rock and industrial records, mostly with 7 inches from local bands.
EDLX: What are your favourite albums of all time?
JA: My most influential LP's to date are: The Cure 'Pornography', Depeche Mode 'Black Celebration', Metallica 'Master of Puppets', Bola 'Fyuti', Speedy J 'A Shocking Hobby', Plastikman 'Sheet One', Thomas Koner 'Nuuk', Lustmord 'Heresy', Richard Devine 'Lip Switch', Slowdive 'Just For A Day', My Bloody Valentine 'Loveless', Nitzer Ebb 'That Total Age', Nine Inch Nails 'Pretty Hate Machine', Autechre 'Tri Repetae', Aphex Twin 'Analogue Bubblebath 3', Misfits 'Walk Amoung Us', GLOD 'GLOD', Philip Glass 'Kundun'…. this list can go on and on….
EDLX: What Track is your secret dance floor weapon?
JA: Aaron Nesbit's remix of Ctrl Alt Dlt's "Pet The Ceiling" on From 0-1.
EDLX: Who surprises you the most when you play with them? Who is pulling out records that you don't know?
JA: Seattle's Kuri Kondrak and Randy Jones (Caro) are always surprising me with their deep crates.
EDLX: What music do you listen to when you are not in a club?
JA: I'm really quite the audiophile and I'd have to say that the majority of non-club music that I listen to is ambient in nature, specifically Tibetan in tone.
EDLX: Can you give us your electric deluxe top five tracks?
Collabs – "Magnet Express"
Tommy Four Seven – "Surma"
Collabs – "Sculpture"
Speedy J – "Bootes"
Terence Fixmer – "Echoes"
EDLX: What can everyone expect from your DJ sets?
JA: Narrative, diverse and fun yet at moments with hints of darknesses. I've been complimented as a DJ's DJ.
EDLX: Anything else you would like to tell us?
JA: "You can not know your balance until you experience your extremes."
EDLX: Thanks Jerry,
You can listen to Jerry Abstract's Electric Deluxe podcast here
More info – Jerry Abstract