EDLX Spotlight #15: Dadub -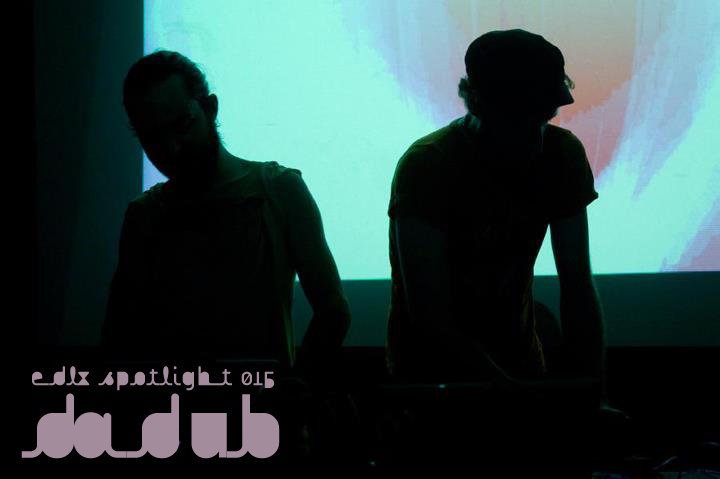 EDLX: How did you start producing and when?
DADUB: As separate producers, we both started almost ten years ago, but we started working together almost two years ago. We were both living in Italy, in the same city, but never met there. Giovanni was part of an electronic ensemble, making IDM, and was a DJ, spinning mostly jungle, D'n'B and broken beats; Daniele started to produce electronic music more focused on mid-tempo beats, ambient-drone and dub. When Daniele moved to Berlin we met and rent a studio together, we didn´t know if we could work together, but then it all came naturally, and we started making tracks for Stroboscopic Artefacts and Lineal rec. We spent most of our time in the studio working as mastering engineers for these labels and many other techno and electronic music labels, we guess this is how we accumulated a background in techno.
EDLX: What is your approach to putting the tracks together in the studio?
DADUB: We start from simple drum beats and atmospheres, and let them suggest how to develop the first sketches into full songs. We use to make dubbing on these first sketches, resample and rearrange the result until it has some narrative flow, and then refine more and more until we are satisfied…
We are quite perfectionist, so usually we are never satisfied, but then deadlines kick in, and we have to stop and think that it's finished.
EDLX: Can you describe your sound?
DADUB: Some reviewers say that we are dark and noisy, others say that we are developing new perspectives in producing techno-dub. We care a lot of low frequencies and deep hypnotic atmospheres, and we both were drummers, so we guess the beats are important for us, both the patterns and the sounds. We try to achieve a good balance between complex sound textures and our human touch, we really love the imperfections of sound; we try to make something that cannot easily be classified…we mostly do what sounds suggest us, keeping in mind the fruition context and aesthetic of our reference labels, but don't care too much about what the labels expect from us.
Dubbing is an essential part of our sound, we build complex chains of reverbs going into delays going into filters going into feedback loops, so we can have rich sound textures and complex movements starting from a simple sound.
Lately we are experimenting a lot with more complex sound design techniques, using mostly MaxMsp and Reaktor: we are building custom sound processing software devices that allow us to have unique spectral palettes, creating hybrids between tonal and percussive elements. The tracks released in our MonadVIII for Stroboscopic Artefacts contain the first results of these experiments, and we look forward to expand the presence of these elements in our future releases.
EDLX: Can you reference some of your influences?
GIOVANNI: Bretschneider, Jelinek, Noto, Pan Sonic, Vladislav Delay, they triggered my interest for electronic music when i was a teenager, and i still get really inspired when i re-listen to their old records.
DANIELE: IDM and experimental music, reggae-dub, percussions, rave parties, contemporary philosophy influenced me a lot.
DADUB: We don't really have such a big background in techno, and we feel this is our added value, we can bring some external fresh influences that may help to bring some unexpected new touch.
EDLX: What do you listen to when you are not producing music?
GIOVANNI: We spend most of our days in the studio, mastering techno and working on our productions, so when I´m home I prefer to listen to the sound of the leaves moved by the wind, and ambient music, I love most of the releases from Type records, and I am rediscovering my first love for the glitch movement, I love the hypnotic subtle development of the tracks from artists roosted by Mille Plateaux and Scape records.
DANIELE: Yes, when you spend so much time in the studio it's not so easy listening to music at home, but when I do it I love relax and meditate losing myself in ambient-drone sounds, or listening to old reggae-dub "chunes"…or the silence, aways full of evolving details.
EDLX: What have been your gig highlights of the last 6 months?
DADUB: Last big gig was Melt festival, loved the crowd and the atmosphere of the festival. And we played for Sonar in Barcelona, it was a blast to be there, it felt like a big achievement and reward for all the hard work we pulled out in the last years.
We love to play in Berlin at Suicide Circus, always have a great exchange of energy with the people there, it's a small club with a lovely intimate feel.
In August we had a blast playing a almost 5 hours DJ set for Krake Festival in Berghain Kantine, mixing techno and IDM, we found our perfect balance and look forward to repeat this experience.
EDLX: What is your electric deluxe top ten from the back catalogue?
DADUB: We mixed in a top 10 Speedy J production career list as well.
Chronological order:
EDLX.018 – DX Phil Kieran & Jochem Paap – Paint and Chemicals Dept.
EDLX.017 – B2 Terence Fixmer – Dance Like Paranoid (Marcel Dettmann Rmx)
EDLX.016 – A Shoegaze (Speedy J Out Of Focus Dub)
DX Shoegaze (Edit Select Reviset)
EDLX.015 – Gary Beck – Egoist (Speedy J Dub Tool)
EDLX.008 – Audio Injection – Operation A (Speedy J Remix)
EDLX.007 – Speedy J – Trails (Edit Select Remix)
EDLX.005 – Tommy47 – Surma
EDLX.002a – Collabs feat Speedy J + Chris Liebing – Magnit
EDLX.001 – Speedy J – Bootes
EDLX: What is your next release?
DADUB: We are going to release a remix on wax coming out in October, for Stroboscopic Artefacts.
EDLX: Who surprises you the most when you play with them? Who is pulling out records that you don't know?
DADUB: We enjoyed a lot Joseph Capriati dj set at Butan Club in Wuppertal, we were playing in the same night and were blasted by the energy he managed to put out, totally perfect transitions and never ending rising tension and drive.
Other amazing sets were by Lucy at Sonar and Edit Select at Melt! festival: two good and elegant examples of a clever management of tension, deepness and energy.
Another interesting set was performed by Dromoscope Crew at Krake festival, a lovely journey between drone music and IDM.
EDLX: At EDLX one part of releases is always the tools. Do you make
tools for your own DJ sets, are you playing lots of edits?
DADUB: For our liveset, we usually use parts of our tracks as tools, we disassemble the arrangements and put the elements together in a different way, so we mostly use only our own tools. We usually make tools for other producers, and ask other producers to
make tools out of our tracks, we feel it's better to have an external touch and it brings some freshness that it'd be hard to have when you have to re-work your own tracks.
We're quite proud of our first tool, it was made for the Lucy & Ercolino vinyl released by Stroboscopic Artefacts, it was our first break trough, played and charted by big names.
And, of course, we love Edit Select Dub of Metropolis, a so fresh and inspired interpretation of our sounds.
EDLX: Anything else you want to mention or say?
DADUB: Stay in touch with what inspires you, and get a break when you feel tired, it's better to wait and release a number you're proud of instead of engrossing the bunch of standardized elevator music that's flooding the shops.