EDLX Spotlight #05: Drumcell -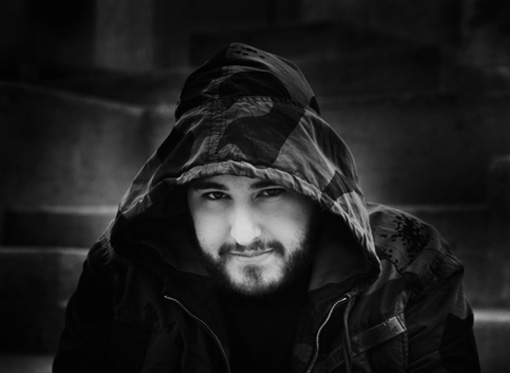 We hook up with Moe Espinosa, Drumcell. Founder of Droid Recordings, one part of the events 'Droid Behavior', Moe has been one of techno's greatest allies in Southern California.
EDLX: Compared to Mexico, Brazil, Peru, Argentina et al, America can seem like a hard place for Fledgling and established Techno acts alike? apart from the obvious pocket scenes, where can people listen to techno/electronica?
Drumcell: There are several cities in the US that in my opinion have vibrant techno scenes. At the end of the day it's all still very underground in the US compared to Europe. For instance Minneapolis is a city that has never disappointed me with great gigs and amazing people, and there is such a strong set of producers coming from that city like Dustin Zahn, DVS1, and so on. New York, Chicago, Detroit, Milwaukee, Madison, Knoxville, Des Moines, San Francisco, Seattle, and Portland are all cities that have a small but dedicated techno community . I've played gigs in all these cities and have always been pleasantly surprised by how active and relevant their scenes are. Of course I can't forget to mention my own city of LA, which is ALWAYS growing. So many producers coming out of LA are making waves on an international scale, such as Audio Injection, Raíz, Silent Servant, Santiago Salazar, Developer and so many more that I can't even name them all.
EDLX:Â Where are you at the moment and what have we disturbed you from doing?
Drumcell: I am currently in Berlin and have just returned only a few hours ago from playing at Berghain with Audio Injection. We played for 7 hours, and it was an incredible experience I'll never forget.
EDLX: For people who don't know you can you give them an idea of your production style?
Drumcell: I've always been inspired by aggressive music like early industrial, noise, and various forms of more experimental electronic music, and that tends to show in my work. At the same time I hate to pigeonhole myself into one particular sound, and my production style can change dramatically. Ultimately I have very diverse taste in music, and I'm a strong believer in the fact that there is a right time and place for anything and everything. The stuff that I create really depends on how I feel in the moment and what tools I decide to use. I am truly passionate about synthesis in general, and over the years I've collected some key tools for myself. But having too many toys can also be very distracting, so I often select one tool and limit myself to forming tracks around it. The limitation can inspire creativity, and I'll go from more dubby, spaced-out techno to harder, aggressive grooves.
EDLX: What can everyone expect a Drumcell set?
Drumcell: I'd hate for anyone to expect anything to be honest, but I do strive to be as dynamic as possible in my sets. Too much of one thing for me can get a bit boring while I'm playing. I feel that both harder techno tracks and tracks with deeper grooves can be most effective when played together. I've always been inspired and motivated when hearing mixes that have a more cerebral feel, and I strive to achieve that when performing.
EDLX: It seems you like to find interesting venues maybe doing Raves in spaces that shouldn't be used or other people havn't used?
Drumcell: Well here in Los Angeles where we are based, club venues have never proven to be the most functional spaces for techno nights since they tend to cater to more mainstream audiences. Droid (our label and events group) has always striven to bring a specific feeling and environment to our Interface events. The barren wasteland of L.A.'s industrial warehouse district seems to fit that goal perfectly. The warehouse spaces are like blank canvases that allow us to come in and produce more artistic visual installations and concepts that we feel set us apart from what anyone else in the US is doing currently. The surroundings of the warehouses add an element of grime that touches on LA's electronic music history and helps push what was once really good back into an underground context. It's about bypassing the bullshit club bottle service and valet parking that Hollwood tends to glaze over LA and bringing us back to the scene's more primal roots. It's more about the purity of techno and the passion behind it.
We go to great lengths to use a different venue every time for a fresh surrounding and often use map points and shuttle buses to provide access to the event itself. Sometimes the adventure getting there is half the fun, and it serves to create a unique and isolated experience. Maybe some people don't care for all these things, but we do it because we find the people that make the effort are those who REALLY WANT TO BE THERE.
EDLX: Do you have non-productive moments in the studio? Do you get writer's block?
Drumcell: YES! As a matter of fact I'm having one now J. At these times I end up just moving into sound design mode, creating loops or synth patches and editing field recordings. Hopefully at some point it will create a spark of creativity.
EDLX:Â What have been your best shows of the last 12 months?
Drumcell: Last night at Berghain was amazing, but also Medellin, Colombia @ La Casa, Montreal, Canada @ a warehouse space, New York City @ National Underground, Athens, Greece @ Athens School of Fine Arts, and San Francisco @ Com# were AMAZING to name a few.
EDLX: What can we expect from Drumcell in 2011?
Drumcell: I'm currently working on my full length album as well as starting up a small sister label named Convex:ed. It is more of an audio visual techno project that will be coming VERY soon. Not to mention a handful of remixes and more releases on DROID…
EDLX:Tell us about droid recordings and whats happening at the moment?
Drumcell: The label is growing at a very fast pace, and we have some really amazing releases coming up from the Droid camp Audio Injection, Raíz, Luis Flores, and Drumcell, as well a lot of our US techno allies here in the states. The label has always tried to focus on artists based in the Americas. There are plenty of labels from EU putting out tons of amazing music, and we feel stateside it's a tad limited to a small handful. Droid felt like the perfect opportunity to showcase some talent from our side of the pond.
EDLX: What are your favorite albums of all time.?
Drumcell: These are just off the top of my head and stuff I'm currently listening to and in NO particular order.
Coil – Scatology
Cabaret Voltaire – Drinking Gasoline
Speedy J – A Shocking Hobby
Autechre – LP5
NIN – The Downward Spiral
My Bloody Valentine – Loveless
Hakan Lidbo – After The End
Jeff Mills – Sleeper Wakes
Proem – Negative
Gridlock – Formless
Joy Division – Unknown Pleasures
My Life with a Thrill Kill Cult – Confessions of a knife
Saul Williams – Rise of Ziggy Stardust
Tommy Four Seven – Primate
Lucy – Wordplay for Working Bees
EDLX: What Track is your secret dance floor weapon?
Drumcell: James Ruskin – Work (Steve Rachmad Remix)