EDLX Spotlight#01: Endless -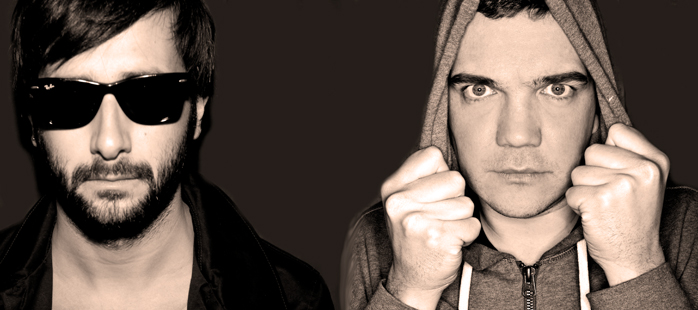 We hooked up with Ali Perc & Giorgio Gigli to talk Endless, their new project about to be launched on Electric Deluxe.
EDLX: How did you two get together and decide to start producing as a duo?
ALI: We both had a mutual respect for each other's music and the labels we were running (Zooloft and Perc Trax), after talking on skype we decided to collaborate. You never know how these things are going to work out but so far there is a real connection between us and that shows in our first EP.
EDLX: What is your approach to putting the tracks together are you working remotely or together in the studio?
ALI: At the moment we are working remotely. We swap sounds and ideas over the net and give each other feedback on the results. Soon I will travel to Rome to work together with Giorgio but if it is not working in the studio then we can go back to collaborating online. Whatever works best is the best method for us.
EDLX: Can you describe your sound?
ALI: I think the Endless sound has definite distinctions from both my own and Giorgio's solo productions. The Endless sound is drawn-out, psychedelic techno. Minimal in the sounds it uses, but a world away from the current understanding of 'mnml'. It has hypnotic, trance-like elements, possibly looking back to an era when trance and techno were almost interchangeable terms, rather than the polar opposites of taste that that are now.
EDLX: Can you reference some of your influences?
GIORGIO: I approached electronic music in the 90's, in Rome in that period there was an important techno scene and many rave parties. My background started from there, from labels that represented me, like Sounds Never Seen and ACV Records and artists like Lory D, Leo Anibaldi and Paolo Zerletti (I approached djing by looking at how Zerletti plays). My artistic way is always evolving and over the years my influences changed. A big part of my work is focused on ambient atmospheres, where you can find references to sci-fi soundtracks
ALI: For me personally it is a mix of old and new techno. From classic UR and Richie Hawtin through the Birmingham sound of Regis & Surgeon through to newer names such as Tommy Four Seven, Ancient Methods, Traversable Wormhole and the Stroboscopic Artefacts crew. Outside of techno the industrial sounds of Cabaret Voltaire and Throbbing Gristle and the early drum & bass of Ed Rush, Optical, No U-Turn, Renegade Hardware etc all creep into my productions.
EDLX: What do you listen to when you are not producing music?
GIORGIO: I love to listen to many kinds of music from ambient to modern classical, like Max Richter, Marconi Union, Philip Jeck, Solo Andata and Ludovico Einaudi.
ALI: The industrial stuff mentioned above, classic Warp/Rephlex Electronica, some British indie music, anything touched by the genius of Joe Meek. Anything interesting. It does not have to come from a producer rather than a song writing angle but like most production nerds I am also listening to the production as well as the performance.
EDLX: Is there going to be a live arm to this production collaboration, and can you explain what it will look like?
ALI: Yes, it will be a combined performance from Giorgio and myself fusing vinyl DJing with digital performance Somewhere between a DJ set and live performance, we will not be limited to our own track but of course there will be an emphasis on our own music, both released and unreleased. The tool that Electric Deluxe requested we made will be very useful for our Endless performances.
EDLX: What have been your gig highlights of the last 6 months?
ALI: My Berghain debut at the start of February is something I'll remember for a long time and the Colony vs. Perc Trax party in London in November was excellent as well. It has been a while since I have promoted in London and the response to the night and the sets was amazing.
GIORGIO: My most important gig in last 6 months was here in Rome with Sandwell District because I'm a big fan of Function and also for the closing party of Clubtoclub, one the most important festivals of electronic music in Italy, where I played in an Auditorium with a symphony orchestra. From here to next 6 months I have many important gigs around Europe.
EDLX: What is your electric deluxe top ten from the back catalogue?
GIORGIO:
Terence Fixmer – Electric City (Function Remix)
Terence Fixmer – Electric City (Original Mix)
Speedy J  – Red Shift Ep – Bootes (Original Mix)
Terence Fixmer – Comedy Of Menace Part1 – Drastik ([P.A.S] RMX)
Audio Injection – Operation A (Speedy J Remix)
Speedy J – Red Shift Ep – Red Shift (Original Mix)
Collabs Feat Speedy J And Chris Liebing – Magnit Express (Original Mix)
Terence Fixmer – Comedy Of Menace – Dark Line (Original Mix)
Terence Fixmer – Comedy Of Menace -Last Heroes (Original Mix)
Terence Fixmer – Machine Ep (Fixmer's 6am Dub Version)
ALI:
Sculpture 1986 – Collabs (Speedy J & George Issakidis)
Terence Fixmer – Drastik (Planetary Assault Systems Remix)
Terence Fixmer – Things Are Over (Speedy J Bonus Beats)
Phil Kieran – Empty Vessels (Gary Beck Remix)
Speedy J – Trails (Bonus Beats Dub Jam Tool)
Speedy J – Bootes
Collabs – Magnit Part 07 (Loopy Pad)
Tommy Four Seven – Surma (Original Mix)
Terence Fixmer – Things Are Over (Original Mix)
The Ecologist – Connect (Carefully Mix)
EDLX: You are about to release your long awaited debut album on Perc Trax, how is it all going?
ALI: The album is going well. 6 tracks are finished and there are about another 5 or 6 that are close to completion. From that I'll choose the final 10 or 11 tracks. The sound is definitely something new for me but still with a connection to my previous releases. I can't put a release date on it yet. Early summer maybe.
EDLX: Who surprises you the most when you play with them? Who is pulling out records that you don't know?
ALI: Anyone with a history really, a DJ that knows the last 15 or 20 years of music is always going to be more appealing that someone running through that weeks new promos. Off the top of my head Peter Van Hoesen, George Issakidis and Forward Strategy Group can all pull out a surprise when you least expect it, a bit of old UK industrial or Belgium New beat in a set always gets my blood pumping.
EDLX: How did you find making tools of your tracks is this something you both do anyway for your own DJ sets?
ALI: We divided up the tracks and worked on stripped down versions. Removing some of the percussion and basslines and focussing in more detail on one key lead line or hook. I DJ digitally so this is something I do often with my own tracks or those by other producers.
EDLX: Anything else you want to mention or say? Please add any of your own questions on stuff you want to chat about
GIORGIO: Yes, would like to mention my label Zooloft Rec. that was born from the collaboration of Obtane and me two years ago. Zooloft releases are in vinyl, limited and numbered copies. Like "collector items". It is a special project because we produce only our tracks with a special remix of an artist that we like. Our style is a mix from dark ambient, techno and some romantic things
ALI: Myself and Giorgio would both like to thank to everyone for their support, especially all at EDLX.
Look out for their Debut release dropping on Electric Deluxe End of March. Sampler tracks will arrive on soundcloud in a couple of weeks.