EDLX Spotlight #16: Smear -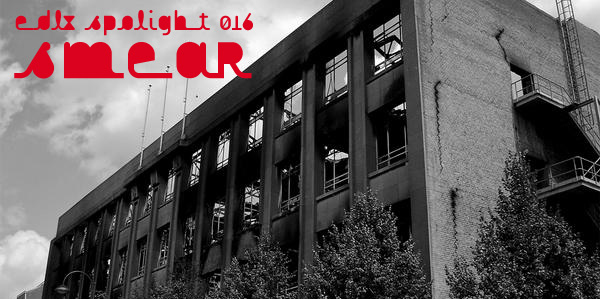 We Hooked up with Al for a chat …
EDLX: How did you start producing and when?
SMEAR: About 14 years ago, mainly messing around with Impulse Tracker and Simsynth 1…my first few releases were extremely noisy, mostly not very well produced but I'm still quite proud of them. I picked up a lot of unorthodox techniques back then to make unusual sounds that I still use today.
EDLX: What is your approach to putting the tracks together in the studio?
SMEAR: It varies, but at the moment I tend to work backwards. After I get a basic rhythm down, I do the 'finishing touches' first, I put a lot of effort into the colour of the track, the 'dirt' and setting up a framework. I think this kind of thing is often just treated as an afterthought, but I've found it useful to have a mood in mind before working on the main content. Something as small as the colour of the hiss or the shape of the attack of a kickdrum can trigger a lot of new ideas. I've always been drawn to the idea of imposing limitations on how you work.
Since my studio's 100% digital (in fact it's 100% software!) it's important to me to put the effort into making music with character, so detail is important, much more so than having perfectly engineered music. That's a problem I have with some techno at the moment, the strive towards engineering perfection above all else.
EDLX: Can you describe your sound?
SMEAR: It's always changing. At the moment it's slower and less full-on and probably more abstract than previously. The nature of techno is that there's so little definition. It's more defined by what it isn't than by what it is, so I think there's much scope to be quite outrageous if you were so inclined. I try to avoid the conventions and clichés of techno, it bores me to produce with them.
EDLX: Can you reference some of your influences?
SMEAR: I used to produce very strange hardcore techno, so a lot of those guys, La Peste, the Michelson sisters, Explore Toi, XMF and the like still have a big impact on my music. It's great to hear techno like Friendship Connection and K209 that remind me of that, that level of detachment to the conventional picture of what dance music is, is something that really excites me.
EDLX: What do you listen to when you are not producing music?
SMEAR: A lot of older stuff, most recently The Homosexuals, Red Krayola, Orange Juice…I just brought all my old Cabaret Voltaire records down from Glasgow last month which I've been enjoying all over again.
EDLX: What have been your gig highlights of the last 6 months?
SMEAR: Grounded Theory recently was awesome, the music was so good I kept a .txt file open on my laptop for trainspotting! Klubd in Nicosia was fantastic too, such nice people and it's a really interesting time in Cyprus' scene. They don't seem to have a techno scene as such, but they have one club night bringing over lots of great acts.
EDLX: What is your electric deluxe top ten from the back catalogue?
Endless – SG8
Tommy Four Seven – Surma Tool
Speedy J & George Issikadis – Sculpture
Echologist – Connect (To My Psychosis)
Endless – 00165
Terence Fixmer – Comedy Of Menace(PAS Remix)
Speedy J – Trails
Endless – EHDC
Echologist – Connect (Carefully Mix)
Terence Fixmer – Breathless
EDLX: What is your next release?
SMEAR: I'm actually not sure! We're finishing off the Forward Strategy Group album, and we have FSG remixes for Miller & Boex and Donor being released soon. I've a couple of EPs as Smear lined up, but they may not be released until early next year, so it's too early to give away details.
EDLX: Who surprises you the most when you play with them? Who is pulling out records that you don't know?
SMEAR: I love Donato Dozzy and Eric Cloutier, their attention span and focus is phenomenal. When you find out the records they're playing, it's also impressive to find out how broad their collections are, and how much work they put into finding records that fit their vision. They're real craftsmen.
There's also a friend of mine called Gunter Saxenhammer who has incredible taste. He very rarely plays out but he's always very exciting to hear him. It's a very rare talent to be able to put such a strong personal stamp on what is essentially playing other people's music. I admire anyone who can pull that off.
EDLX: At EDLX one part of releases is always the tools. Do you make tools for your own DJ sets are you playing lots of edits?
SMEAR: I play vinyl-only quite a lot, but when I DJ digitally I put a lot of effort in with tools, edits and the like. I enjoy having both options, and they both have positive effects on each other. Digitally I have more freedom with how I play the vinyl I've spent years tracking down, and mixing digitally I think has changed how I play vinyl with regards to selection and flow. It opens your mind up to combinations and structures you hadn't previously considered because on the laptop you can throw things together immediately and see how it works.
EDLX: Anything else you want to mention or say?
SMEAR: The EDLX podcast is a collection of industrial, artsy pop and experimental electronics. It's a decent cross-section of things that've inspired me over the years. It was all very spontaneous. I never plan this kind of set, it's much more fun to start with one track and quickly throw ideas in as soon as they come up. I'm not a big fan of 'beauty' in music. I've always had much more of an emotional connection with the imperfect, the incomplete and the brutal, there's so much more joy to be found in that. I hope people enjoy it!