Phil Kieran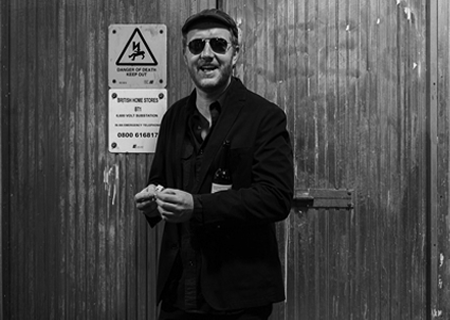 Phil Kieran has been in the upper echelons of the electronic music game for more than a decade, but has only recently released his debut album under his own name. Known for rocking clubs and releasing a string of killer twelves, Belfast-based Phil has hooked up with German powerhouse Cocoon to release 'Shh', a groundbreaking piece of work that has gained Phil plaudits across the board.
'Shh' seems to not only reference every sound Phil has ever loved in music, but is formulated in a completely fresh and futuristic way. Listen carefully and you can detect elements of dub reggae, old hardcore like LFO, hip-hop, early 90s electronica such as Autechre/Black Dog and other Warp staples, as well as the futuristic techno that Phil excels in. For the album Phil went back to old sound lab recordings dating back to the 1950s and 60s. Utilising some of these sounds in the initial construction, he built up tracks using a combination of old samples sourced from original and weird places and some live new instrumentation as well. There are live drums, some electric/acoustic/bass guitar and live keyboard playing as well as some choice guest vocalists.
"I tried to use all my knowledge from when I first got into music to try and make an album that captures everything I've ever loved about music," Phil says.
Phil has synthesized his myriad of influences into one radically beautiful whole: blissed-out vocal samples, space age electro, cavernous bleeps, fizzy technoid 4/4 beats, glistening glitches, crackers crackles, early R&S sounds, warm keys, acerbic bassline undertows, dense echoes, Orbital cinematics and randy robotics all feature, but really this is an album far greater than the sum of its parts. It's very much a home or car listening album, perfect for post-club play, although plenty of the individual tracks contain discerning dancefloor dynamics too.
Cutting his clubbing teeth at Shine in Belfast, Phil now has over 100 dancefloor releases to his name on quality labels like Skint, Soma and NovaMute, and is widely respected throughout the industry among the technoscenti. He's also recently broken into movie scoring, creating the soundtrack for recent Steven Soderbergh film 'The Girlfriend Experience' with fellow Irish compatriot David Holmes. To exorcise some demons a few years ago he created a live techno punk band Alloy Mental, variously melding Joy Division basslines onto pummeling punky T.Raumschmiere-style technoid power-drivers. He also has an impeccable DJ reputation that's won him top 20 placings in DJ magazine's global 100 DJs poll, plus regular features and reviews in all the major magazines is a guarantee to promoters that he'll inevitably rock the joint to its foundations.
Phil has been busy recording a huge schedule of music about to be released on Cocoon, Snork, Electric Deluxe, Sci-tech and Gigolo. Phil has also found the time to program his own imprint Phil Kieran Recordings which will launch later this year with the re-release of his immortal dancefloor destroyer 'Skyhook'. For this release Phil has drafted in some of his friends to do remixes and features artists include Adam Beyer, Jesper Dahlback, Scuba, SCB, Ricardo Tobar and Green Velvet.
releases