Raíz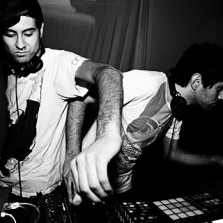 Los Angeles born and bred, Vangelis and Vidal Vargas were raised in the '80s on a steady diet of Latin freestyle, electro, and new wave that pervaded their urban environment. Their father also exposed them to cutting edge progressive acts Vangelis, Tangerine Dream and Kraftwerk, planting early seeds for aural exploration. By the mid '90s they were sampling LA's underground club scene and heavily researching electronic music's roots. After years of influence they began to express their musical vision through their own recordings and performances. Vidal and Vangelis eventually found common ground with producer / performer Drumcell, and in 2002 they formed the Droid Behavior event production group and record label out of frustration with the city's lack of knowledge, acceptance, and understanding for Midwest-bred techno and house music and their European counterparts.
As producers Vangelis and Vidal have released and licensed original music and remixes under various aliases (most notably Acid Circus and Raíz) on the Droid Recordings imprint as well as respected labels Historia y Violencia, Tora Tora Tora, DJMag, Music Man, Resident Advisor, Enemy Rec, Gynoid, Reloading, Micro.Fon and Timefog. Their music has been charted, played and supported by Speedy J, Chris Liebing, Marcel Dettmann, Ben Klock, DVS1, Levon Vincent, Jonas Kopp, etc.
Their intense and inspiring performances have placed them alongside major players Jeff Mills, Richie Hawtin, Derrick May, Dan Bell, Surgeon, Sandwell District, Robag, Paco Osuna, Pan Pot, Marco Carola, Detroit Grand Pubahs, and Berghain Residents at undergrounds, festivals, after hours, and club nights from North and South America to Berlin.
Raíz fully harness the capabilities of Traktor, Ableton, and Maschine technology to create a thick blend of Detroit influenced techno and gritty house. They take cues from years of classical training to infuse dynamic musical expression with a delicate balance of mixing board acrobatics and symbiotic intuition. Years of production experience inform their Live PA / Digital DJ hybrid approach, which uses each track's core essentials to form a narrative arch for every unique set. Their releases follow suit and take only key elements from each rhythmic style to shape simplistic and deep music that captures their diverse influences and personal impressions.
releases