Sawlin & Subjected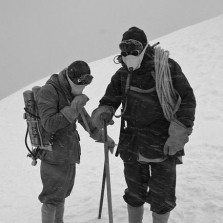 Sawlin is a musician since more than 14 years. after finishing his audio engineering studies berlin based Ronnie Sawlin is running a mastering studio in the heart of Berlin. After several stages of sonic education he works as a mastering engineer behind the scenes of a multi-coloured musical landscape. He avoids traceable public communication so the only thing you officially get is his music. Thats why these text about him is so short.
The dark of his musical identity – inspired by the early 90s – initiated the "vault series". Sawlin rarely performs and if one can get there it's sure that he plays live-only. Basically he spreads his music at "Vault Series" and "Ann Aimee". All others labels were carefully selected. Other were declined. He prefers analog equipment and every part of his studio is for a long time reconsidered, if it would create a new sound and would fit to his unique Sawlinsound. The selection of his equipment is very important for him just as the idea of music.
Subjected, A young boy, faceless in the pallid light, entirely gripped by these machines, source of this brutal black noise. Dark, thundering bassdrums, distorted soundscapes and grooves start to emerge. He lives for the machines. The machines live for him. This is Subjected, an amalgam of darkness, distortion and aggression. Anomity as a fuction, mystical without usual clichés. No hiding behing masks, no digging in the past, no techno purism, no strive for fame – SUBJECTED stands for distinctly deep, idenfitiable techno. Designed in the shadows, to be consumed in the darkness. A label. Music, and nothing more. Born in Hoyerswerda in 1983 and brought up in the tristesse of Berlin-Hellersdorf, he was strongly socialised by the lower class suburb with its grey, oppressive tower blocks. The first musical attempts he made were in Hip Hop and rap, but it wasn't long until he started to be aware of all the progress happening in Berlin in the mid 90's, and got infected by the early club nights in legendary E-werk and Tresor as well as mixtapes from local radiostations. All of this shaped him towards his own musical reinvention. Techno as a possibility of identification, allowed him to find himself. It's the monotony, the uniqueness of the synthetic sound, that enabled Subjected to express himself – starting as a DJ, since 2006 also acting as a producer. This resulted in various projects and the launch of Vault Series in 2010. Ever since their first major successes, Vault Series are a guarantee for dancefloor-oriented tracks, with highly distinctive concepts and structures of sound.
releases