Terence Fixmer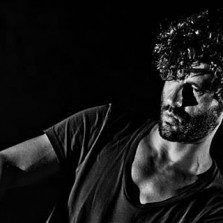 Icon of the electronic north of France, Terence Fixmer is one of France's most treasured protagonists of the techno scene, of which he has been at the forefront for over 10 successful years.
Respected by his peers and adored by fans of radical over- and underground electro, equally at ease in the club or at a pure techno festival as he is in the so-called "dark" scene, Terence reached this respected level, without ever succumbing to excessive promotion or subscribing to the mainstream.
In summary: Two solo albums on Gigolo, DJ Hell's mythical Munich-based label; the seminal 'Muscle Machine' that single-handedly spearheaded a new style, "techno body music" (a unique combination of modern techno and EBM of the founding fathers from Nitzer Ebb to Front 242); copious maxis on prestigious labels, such as Novamute, Datapunk, Different, Music Man; and remixes for various techno gods, from Sven Väth to Dave Clarke and his own personal godfather,DJ Hell.
In addition to his solo productions, Terence also founded the duo, Fixmer / McCarthy, along with Nitzer Ebb's legendary vocalist, Douglas McCarthy. The result of this partnership is two albums that unite the brutality of techno body music and the sensuality of pop. The duo have performed their energetic live sets at renowned clubs and festivals all across the globe.
2008 represents a turning point in the evolution of Terence Fixmer's sound, which deftly avoids repetition by developing soundscapes that appeals to the club crowd, whilst still maintaining musical depth and integrity.
Sombre, defined by surging rhythmical structures reminiscent of Emmanuel Top or Plastikman, Terence's music appeals as much to dancing feet, as it does to the searching soul. Keeping it rough around the edges. A pioneer, he above all preserves an original style, at once recognizable, that beats at the heart of contemporary techno production.
releases