Tommy Four Seven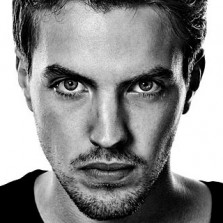 Dark, raw and sweaty environments are where you're most likely to find Tommy Four Seven, filling the void between house and techno since 2005.
Tommy's been steadily building his catalogue of strong, moody and hypnotic dancefloor destroyers such as his 2009 hit, 'Surma' on Speedy J's Electric Deluxe and more recently, 'Sor' for Chris Liebing's CLR, not forgetting the before mysterious 'Bauhaus' project together with Chris Liebing.
Tommy's approach to music is unlike a musician. Instead, Tommy prefers to sound design, recording and sculpting elements into deep engaging atmospheres. It's this production ethos Tommy also applies in the club, morphing from tech-house, to the darker realms of techno. "I always keep the foundations deep and hypnotic, a vibe I feel that creates more of a connection."
Giving his own contribution to techno, in 2008 Tommy launched deep techno imprint, Shooting Elvis. Gathering artists from Mark Broom to Remute, to Sebastian Roya to James Kronier, choosing to release quality rather than quantity, an attitude that has not gone unnoticed.
releases